We urge the NZ government to rise to the standard recently set by English schools, and teach children first aid and CPR as a core part of the health and physical education curriculum.
A generation of children confident in their ability to save lives can have a tremendous impact. We will all benefit from a safer, more productive society with reduced healthcare costs. Two hours teaching annually, beginning at 12 years old, is enough to reach not only the children themselves but their wider communities.
Sudden out-of-hospital cardiac arrest is the third leading cause of death in industrialised nations, and ischaemic heart disease is the second most prevalent cause of death in our country.
A professional response by paramedics and physicians generally takes at least five minutes to arrive, and the brain starts to die after 3-5 minutes.
In most cases, bystanders who witness such a collapse can perform at least basic chest compressions, the key procedure to protect the brain from dying.
Approximately 12% of all out-of-hospital cardiac arrest victims in New Zealand survive following emergency CPR. This figure is an improvement upon the past, but we are confident New Zealand can do better.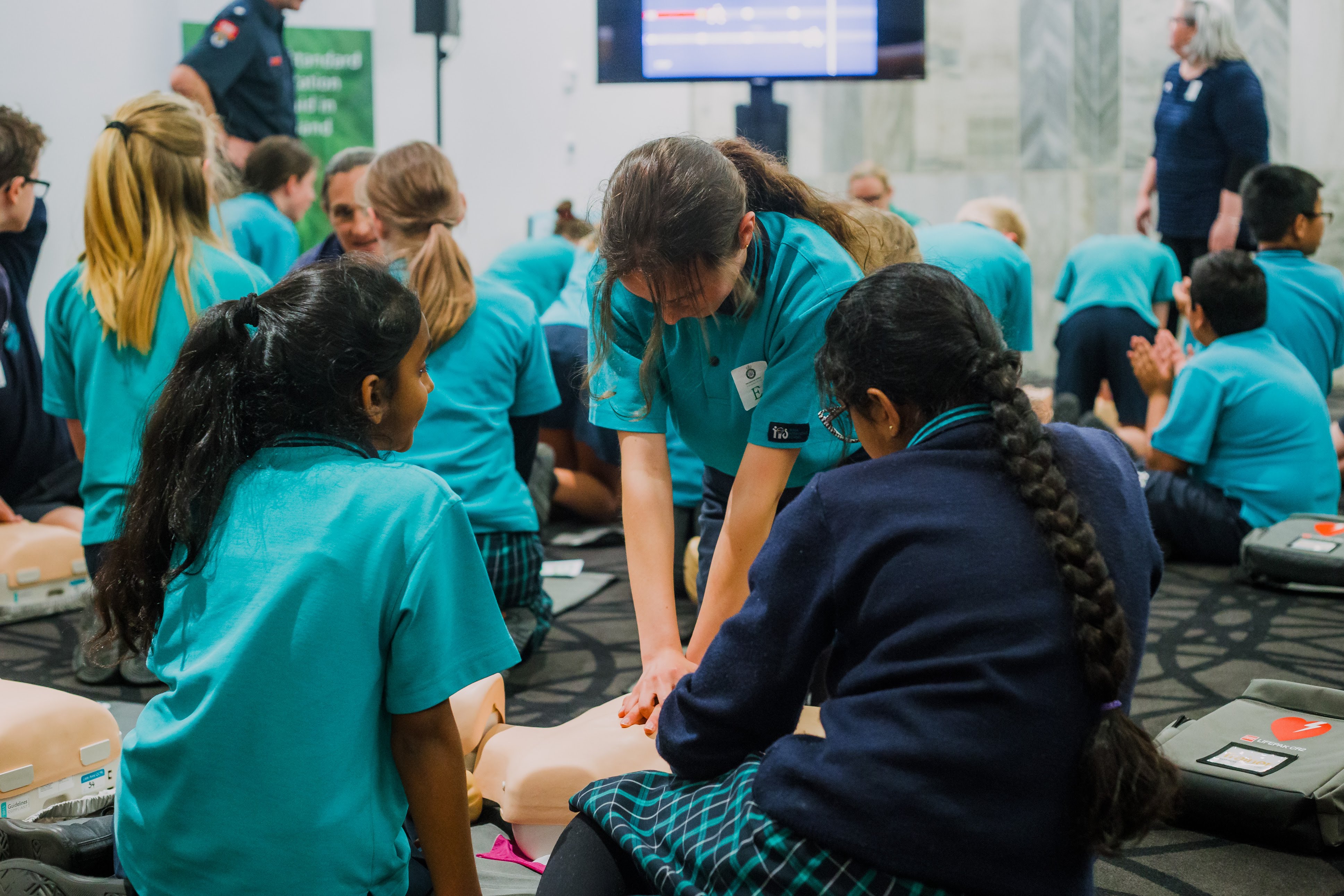 World Restart a Heart Day!
World Restart a Heart Day is held on 16th October every year. It is a day when thousands of resuscitation trainers from all over the world, come together to teach CPR skills. Only 1 in 10 people survive a cardiac arrest, this number can change with your help! It only takes two hands to save a life
Over 192 countries participate in World Restart a Heart Day annually!
Latest News
7 April 2022
Stuff: Golden Bay student 900,000th to be trained in first aid
A Golden Bay student has been recognised as being the 900,000th participant of a St John programme that teaches children how to respond in emergencies.
Read more
Resources
The NZ Resuscitation Council is currently working on Educational CPR packages for schools.

For more information about CPR in the meantime, please view our guidelines.
FAQ's
How much of a difference could it make?
It could save many lives. Roughly five people a day suffer a cardiac arrests and only about 12 – 13% of them survive to hospital discharge. We are lucky in our country to have a reasonably high level of bystander CPR assistance, with help provided to the victim by people nearby in around 72% of cases.
In other parts of the world this rate can fall to 10% or less. Our willingness to muck in and help out those in need is a national trait to be proud of. More, however, can be done, and with adequate training and sufficient access to resources such as defibrillators the rate of survival can be significantly increased.
Could it be dangerous for children if they do it wrong?
No, CPR training is safe and supervised. Chest compressions are practiced on dummies, not other children! Mouth to mouth can be practiced using a purpose built disposable CPR mask, which prevents the transfer of germs.
Automated external defibrillators (AEDs), which are used to deliver an electric shock to restart a heart following cardiac arrest, provide clear audio instructions on how to use them properly. The shock is only delivered if the person in need requires it; the machine can sense whether this is the case.
Great idea, but will it be expensive?
Getting first aid and CPR training as an individual can be costly, whereas providing it in schools as part of the core curriculum is much more cost effective. When teachers themselves are trained in CPR, they can pass this learning on to their students as part of existing time slots for health education.
Training manikins can be pooled between different schools and shared as required. The organisations involved are happy to support and advise the Ministry of Education on resourcing and any other requirements, and we are confident the economies of scale involved will make this the most affordable way to provide CPR training to New Zealanders.
Contact
If you have any questions about Kids Save Lives, or the New Zealand Resuscitation Council please contact us using the form below, and one of our friendly staff will get back to you soon!